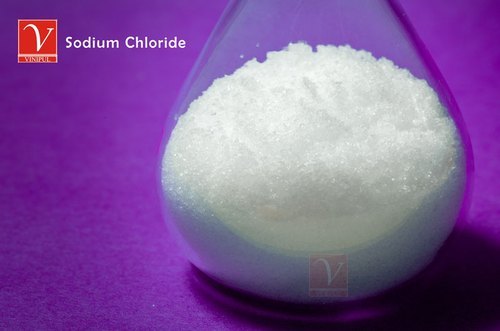 Product Description
We offer high purity Sodium Chloride (Pure / I.P.Pass) to our clients. The Sodium Chloride is commonly known as sea salt and occurs in the form of colorless crystals; it is odorless. The Sodium Chloride can be availed at a reasonable price in custom quantities.
Specification of Sodium Chloride Powder :-
Formula: NaCl
Assay‎: ‎≥99.0%
Grade‎: ‎ACS reagent
PubChem CID‎: ‎5234
Molar mass: 58.44 g/mol
Gmelin Reference: 13673
Beilstein Reference: 3534976
Molecular Weight‎: ‎58.44 g/mol
Molecular Formula‎: ‎NaCl‎ or ‎ClNa
Anion traces‎: ‎bromide (Br-): ≤0.01%
Chemical Names‎: ‎Sodium chloride; 7647-14-5;
Thermodynamic data: Phase behaviour; solid–liquid–gas
Applications :-

Sodium chloride is directly or indirectly used for the production of many chemicals; it is a vital component added in food; it is used to soften hard water, it is used as a cleanser and in fire fighting, and has many other uses.